In Memory
Carol Sladek (Lam)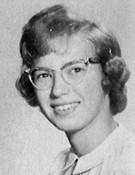 The following information was furnished by Carolyn Wyld Saul.
Carol Lee Sladek Lam - January 17, 1946 - November 8, 2014.
At the time of her death, she and her husband, David M Lam, were living in Brussels, Belgium, where they'd lived for many years. They had two children, Benjamin S. Lam,, and Rachel Lam Anderson, and four grandchildren. She is buried in Sitka, Alaska.
Her sister Linda said in a Facebook post at the time, "A week ago today, my older sister, Carol Lee Sladek Lam passed away unexpectedly. In that week, it's been wonderful to learn more of the impact that her life, love, generous nature, and kind heart had on people. She volunteered anywhere she lived with Cancer support groups, choirs, the Red Cross, women's groups, newcomer's groups, and, when the kids were little, scouts. People I've just met have all told me they never saw her without a smile. Another said that her advice to her regarding family members with cancer helped her to cope, and that Carol's support and care helped keep her going. She was generous with her time, money and her many talents. Carol was most happily married for 45 years to Dave, enjoying life and experiences in many locations around the world as an army wife. She treasured her children, Rachel and Ben, and her son-in-law Morgan, and her daughter-in-law Jenn. She had four grandchildren. The world has lost a truly gentle soul. And Heaven's choir now has a new member with a soft and flutey voice. I will miss her the rest of my life. A day has seemed like a lifetime since then, but her focus on living and savoring each moment has shown me how to pack a lifetime into a day. She traveled to amazing places, dined with dignitaries, but was ever humble and without airs."