In Memory
James Lunn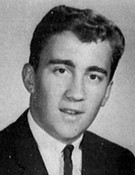 The following comments were provided by his twin sister, Kathy Lunn Edison:
I just want to let the committee know of a deceased classmate....my twin brother James Lunn passed away Sept. 30.....Jim was a very private person and he had always chosen not to put his contact information out - even tho I suggested it several times over the years when I would receive a newsletter or message thru the website - it was his choice and I respected it.
Jim was one of the greatest men I knew - brother, son, uncle, father and grandfather - he was also a 20 year Army veteran who loved his country to the utmost - he did three tours in Vietnam and was awarded the Silver Star, Bronze Star and Purple Heart - just proud to have done his part for all his fellow Americans....he then went on to a 25+ year career in corporate security and traveled the world in that position.
There are so many memories for me - I will miss his humor (not everyone "got it"), his caring and generosity (his first words were always "what can I do"), his texts and phone calls (some long, some short) and so very much more - he touched so many lives. I will always remember how so many of our conversations included the phrase "It's a twin thing" and he had a shirt made for me ..our thoughts ran parallel 99% of the time.