In Memory
James Lindgren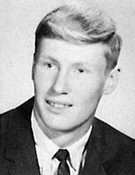 Gale (Glassner) Twersky just informed us of the passing of our classmate, Jim Lindgren.
A link to the obituary is provided herein...and printed below:
James Paul "Jim" Lindgren, age 72, passed away at his home in Sylva, NC on Thursday, September 20, 2018. He was the son of the late Alvin James Lindgren and Alma Dorothy Lindgren. Jim was preceded in death by his father Alvin, his brother in law Jean Francois Kresser, and his twin granddaughters, Martina and Brianna Jaggers.
He is survived by his children Paul Lindgren (Heather), Matthew Lindgren, and Sarah Smiley (Charles) as well as grandchildren Jayden Hoskins, Dean Lindgren, and Sara, Daniel, and Jade Dayton, all of Kansas City, Missouri. Also surviving are his mother Alma, brother John, and sister Dianne, all of Sylva; sister Patricia Kresser of Paris, France, and sister Judy Carlson (Harold) of Seekonk, Massachusetts. He is also survived by six nephews and nieces and their families in Illinois, Massachusetts, and Delaware.
Jim loved growing up in rural Wisconsin towns, the son of a Methodist minister. As a teenager, Jim attended Chicago Blues music shows, after the family moved to that city. He learned to play the guitar and harmonica, and he instilled that interest in his friends and younger siblings. He graduated in 1964 from Evanston Township High School, and he served his country as a Sergeant in the US Air Force, including a tour of duty in Viet Nam and an honorable discharge.
Jim was married to Rose Ochoa in 1972. They especially enjoyed their travels through Mexico in their VW camper van. They raised their family together in the Kansas City, Missouri area, where Jim used his BA in Art in his career as an artist and sign fabricator, and Rose has followed her lifelong profession as a nurse. Jim spent his free time listening to and performing guitar music at BB's Lawnside Barbecue & Blues.
Jim's greatest joy in life was his children and grandchildren. His son has said, "I miss my Dad, my Father, my Friend." His daughter said, "My Dad was one of a kind. He was a free spirit, very open, accepting, & non-judgmental. He had a love for music & art like no other. Dad enjoyed the beauty & nature of North Carolina, where he was surrounded by other loving family members."
His retirement consisted of a quiet life in Sylva, NC where Jim spent time with his mother and his 4 siblings. He joined Shepherd of the Hills Church. He built and collected guitars. He enjoyed many leisurely meals at El Patron Mexican Restaurant. He led the planning for family celebrations. He also returned to KC regularly to visit family and friends.
A memorial celebration is planned for 2:00 pm on Friday, October 5, 2018 at Shepherd of the Hills Lutheran Church in Sylva: 828-586-2084 or shepherdofthehillssylva.org The Rev. Rosemary Peek will officiate. In lieu of flowers, memorial gifts may be offered to the church or to a charity of the donor's choice.
https://appalachianfuneralservices.com/tribute/details/1540/James-Lindgren/obituary.html#tribute-start