In Memory
Sally Garen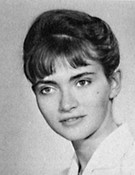 From Sally Garen's oblituary in the Washington Post:
Sally D. Garen, 63, an art history teacher in the Washington region from 1990 to 2009, died Nov. 29 at Capital Hospice in Arlington County. She had brain cancer.
During the 1990s, Dr. Garen taught at the private Medeira School in McLean. From 1999 to 2009, she was a professor at the Corcoran College of Art and Design in the District, Marymount University in Arlington, Northern Virginia Community College in Alexandria and the Art Institute of Washington in Arlington.
Sally Diane Garen was a native of Oak Ridge, Tenn., and a 1968 art history graduate of Smith College in Northampton, Mass.
She received a master's degree in fine arts from the Art Institute of Chicago in 1970. She received a master's degree in ancient art history in 1975 and a doctorate in medieval art history in 1985, both from the University of Chicago.
She moved to the Washington region in 1982. She served as president of the Parent Teacher Association for Bush Hill Elementary School in the Alexandria area of Fairfax County and was a past president of the Brookland-Bush Hill Civic Association. She had been a McLean resident since the late 1990s.