In Memory
Richard Badesch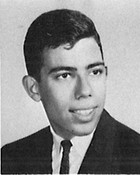 Richard's brother, Roger (a WGN Chicago radio personality and teacher), just sent Fred Brostoff the following information about Richard:
While researching some former students from our alma mater I came across this site and found the listing for my brother. In response to recollections about Rick's musical prowess, he did not play any musical instrument though our parents did encourage us to take up the piano. My wife and I are current owners of our family's piano which was played by both parents and our sister, Linda (class of 1968). I did play clarinet for one year while a student at Oakton followed by a year of equally horribly attempting to play drums at Oakton. Rick's musical passion was jazz as evidenced by his hosting jazz programs on WSIU-FM while a student at Southern Illinois University prior to his passing. Thanks for remembering him.
After receiving the above info, Fred reached out to Roger to see if we could learn more about the circumstances of Richard's passing. Fred learned that Richard had been struck by an automobile on March 19, 1967, as Richard was trying to cross busy U.S. Highway 51 in Carbondale, IL while trying to return to his S.I.U. student residence after having just worked at WSIU-FM. Richard passed away a few days later.
Roger also provided the following very interesting information about Richard:
A link to one of Richard's final radio broadcasts on WSIU-FM – "Jazz and You": https://on.soundcloud.com/JTzan
An excerpt from Roger Badesch's autobiography "The Unplanned Life: the Journey of Roger Badesch", which describes life in the Badesch family after Richard's accident and subsequent passing. Fred can provide a pdf copy of that excerpt upon request.
An image of a story in the Carbondale newspaper, describing Richard's passing: