Evanston Twp

High School




Class Of 1964
PLANNING OUR 55TH REUNION
But It All Starts With Your Contact Information!
We have started to plan our 55th Reunion, which we hope to hold on either the 2nd or 3rd weekend of September, 2019. Please hold those dates open until we come up with the firm program schedule.
One of the most critical steps in planning a high school reunion is the process of gathering classmate contact information. If we can't contact you, we can't tell you about the reunion plans.
Back in January, we asked that you visit your Profile on our website and confirm that all your current address information is correct. Because we received very limited feedback, we have just sent out another group email on this subject, now asking that you confirm the accuracy of your website contact information by July 1.
If you have more than one home address, we ask that you email all the information to Judy Anderson at judithwanderson@msn.com.
To confirm your Profile information on the website, please login and then go to "Member Functions", click on "Edit Contact Info", and make sure everything listed is current. Once all of your contact info is correct, press "Save Changes". Even if you have given us a change of address via your Profile in the last year or two, we would appreciate each and every one of you checking it out and make whatever necessary changes you need to. If you have any questions, please contact our Webmaster, Fred Brostoff at fred2m@comcast.net.
---
For your viewing enjoyment, here are a few ETHS memories:
Also, we've posted some memorable 1960s songs/videos on the "Class of '64 Photo Galleries" page. If you have a favorite 60's song or video that you'd like to see posted, send your request to the Website Administrator.
---
IMPORTANT: Your participation is necessary in creating a successful high school website. At this time, we're asking you to participate by creating your online CLASSMATE PROFILE (see "Edit Profile" on the menu board at left) and spread the word by referring a classmate or two to our website. Questions, comments, or problems? Use the "Contact Us" link on the upper left side of any page to send an e-mail to our Website Administrator.
---
ANNOUNCEMENTS
ETHS HONORS ITS BASKETBALL TEAMS
At the February 3, 2018 varsity basketball game between ETHS and Oak Park-River Forest H.S. (game starts at 7 PM at ETHS), the ETHS administration will honor the ETHS 1968 Illinois state champion basketball team, as well as all other ETHS varsity teams that reached the "Elite 8" in the state tournaments. Your 1964 ETHS basketball team was one of the "Elite 8" teams and, accordingly, will be honored.
Following is an announcement that was just published by the ETHS Alumni Association:
RSVP BY JANUARY 23rd!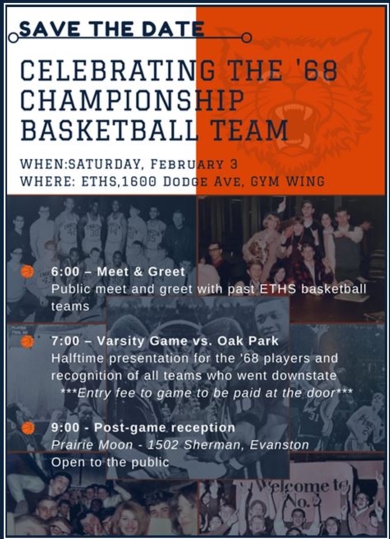 (Thanks to Bob Reece for providing this information.)