Evanston Twp

High School




Class Of 1964
JACK RAKOVE CLASS OF '64 AWARD PRESENTED
Meet Remy Amarteifio, the first recipient of our class's History Award in Honor of Jack Rakove. At the history department's awards ceremony May 11, she was presented with a check for $1,000 and an autographed book on the American Revolution written by Jack Rakove.
Much like the award's namesake, Remy was "blown away" by her junior year U.S. history class at ETHS and decided that she wanted to probe more deeply into the field.
Profoundly moved by a presentation at school on mass incarceration given by New York University Law School professor Bryan Stevenson, Remy decided to undertake a fourth-quarter project this year. She is following the work for equality and fairness being done by the Alabama-based Equal Justice Initiative, which Stevenson founded. Remy said she was also inspired by Michelle Alexander's book, "The New Jim Crow," which Stevenson recommended to her.
The History Department chair, Nicole Parker, said Remy has served her community and has the attributes of a "true revolutionary." In addition to volunteering at the Evanston Library, she has been an official "student ambassador." She ushers for concerts at the school and has taken on community service projects. Oh – and did we mention that she has been a varsity track star for all four years of high school?
In introducing the award, Remy's US History teacher Michael Pond noted that it was founded by the Class of 1964 and will be bestowed each year upon a student who has shown a passion for learning. Particular consideration is given to students who have made significant improvements in their coursework and have taken on increasingly challenging classes.
How pleased is Remy Amarteifio? Her smile says it all!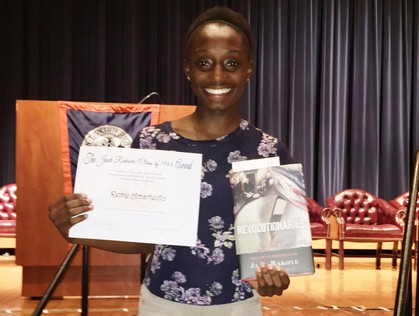 You're also invited to join classmates who have already given. It means so much more if all of us participate, at any amount. To see who just donated, and in honor of whom, click on the Rakove link to the left.
---
Update from the Reunion Committee
Your 50th Reunion Committee met on Sunday, April 19 to discuss future reunion plans, committee leadership and participation, and the website. The website will continue to function to keep you informed of upcoming events and key news items, as well as provide you with a place to exchange comments with your classmates. If, when and where we hold another reunion will be determined during the next few years, based on classmate feedback and having enough classmates involved in the planning process.
Thanks to generous donations from many of our classmates, the 50th Reunion operated within budget and even left a modest balance in the treasury for website expenses and future mailings.
In the meantime, we are thinking of creating a new website page where classmate address changes and new second addresses could be made available for classmates to view. Please be sure to update your Contact Info on the website whenever your address, phone or email info changes, so that we can keep the class database up to date.
We're going to take some time off from Reunion Committee activities for awhile, but later this year we will be reaching out to you.
Have a wonderful 2015 spring and summer.
---
Photos of the Class of 1964 50th Reunion are available for viewing. Click on the "50th Reunion Photo Gallery" link on the left.
---
For your viewing enjoyment, here are a few ETHS memories:
Also, we've posted some memorable 1960s songs/videos on the "50th Reunion - Class of '64" page and on the "ETHS 1964 Photo Galleries" page. If you have a favorite 60's song or video that you'd like to see posted, send your request to the Website Administrator.
---
IMPORTANT: Your participation is necessary in creating a successful high school website. At this time, we're asking you to participate by creating your online CLASSMATE PROFILE (see "Edit Profile" on the menu board at left) and spread the word by referring a classmate or two to our website. Questions, comments, or problems? Use the "Contact Us" link on the upper left side of any page to send an e-mail to our Website Administrator.
---